Spring is here! The birds are chirping, the flowers are blooming, and the sun is shining. While the arrival of spring brings a sense of rejuvenation and new beginnings, it also means it's time to give your home a little extra attention. Spring home maintenance is crucial to ensure your home stays in good condition and is ready for the warmer months ahead. In this blog post, we will provide you with 8 essential spring home maintenance tips to help you get started.
Inspect the roof
The winter season can take a toll on your roof, so it's important to give it a rigorous inspection during spring. Check for any signs of damage, such as cracked, missing or loose shingles. If you notice any issues, call a professional roofer to fix them.
Clean gutters and downspouts
Gutters and downspouts can easily become clogged with leaves, twigs, and other debris, especially after the winter season. To avoid any potential water damage, clean out your gutters and downspouts. You can use a ladder to reach the gutters and a hose to flush out any debris.
Test your sprinkler system
If you have a sprinkler system, test it to make sure it's functioning correctly. Check for any damaged sprinkler heads or leaks, and make any necessary repairs. This will ensure your lawn and garden stay healthy and green throughout the spring and summer months. As well as avoiding extra potential costs from leaks.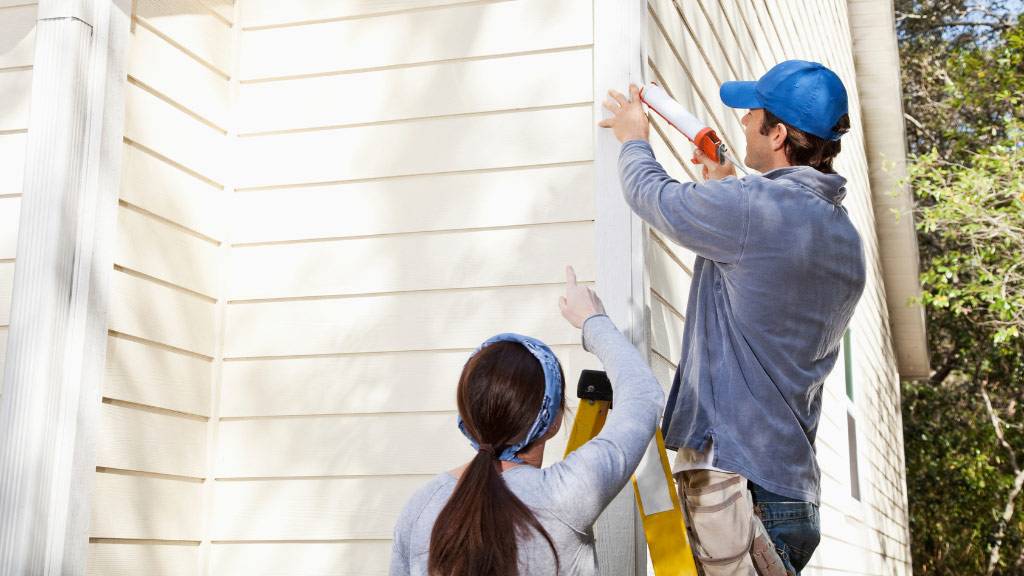 Clean and inspect your outdoor spaces
As the weather warms up, you'll likely be spending more time outdoors. Take the time to clean and inspect your outdoor spaces, including your patio, deck, and lawn furniture. Repair any damage, and consider adding new outdoor décor to freshen up your space. A great tip is to use a mild detergent and warm water to clean the furniture, and make sure to rinse it thoroughly.
Check windows and doors
Inspect your windows and doors for any damage, such as cracks or gaps. These issues can cause drafts and increase your energy bills. You can use weatherstripping or caulking to seal any gaps and ensure your home is energy-efficient. Winter weather can also leave your windows looking dirty or dull. Take some time to clean them inside and out to let that sunshine through your clear and bright windows into your home.
Service your HVAC system
After a long winter, your HVAC system may need some attention. Hire a professional to service your system, including cleaning or replacing air filters, checking the ducts for leaks, and inspecting the outdoor unit. This will ensure your system is running efficiently and is ready for the warmer months ahead.
Test your smoke detectors
Smoke detectors are essential for the safety of your family and your home, but they can be easily overlooked. Test your smoke detectors to make sure they're working properly, and replace any batteries that may have died over the winter.
Declutter and organize
Spring is the perfect time to declutter and organize your home. Go through each room, and donate or discard anything that you no longer need or use. Then, organize your belongings in a way that makes sense for your lifestyle.
Spring home maintenance is essential to keep your home in good condition and prevent costly repairs down the line. Take the time to clean, inspect, and organize your home, and you'll be ready to enjoy the season ahead. For any of those 8 tips, if you require a professional to help you out, feel free to reach out to the Lynn Fee Team. We have access to a wide range of experts and specialists that can help you maintain your home to its best potential and get your house ready in case you are ever thinking of selling. Browse through their recommended resource list here.
In the spring, Grimsby comes alive with vibrant blossoms, fresh produce, and outdoor activities such as hiking, cycling, and water sports. But the fun doesn't stop there – with its quaint downtown, numerous parks and trails, and year-round community events, Grimsby offers a high quality of life and endless opportunities for adventure and relaxation throughout the year.
If you're looking to buy or sell a home in the Grimsby area, don't hesitate to contact our award winning team of real estate professionals today. We can help you navigate the market and find your dream home, or get top dollar for your current property. Visit our website or contact us to get started.